NAME grim/oscar
PRONOUNS he/they
D.O.B. JAN 2 1997
hello hi!i'm grim, an east coast ghost that loves old busted games and toys. even the bjd i love can be considered vintage at this point, pre-2010s, so i can say vintage toys right? i've been in the hobby since 2006 on
den of angels!


(o(*゚▽゚*)o)) Σ(´д`;) ヾ(´▽`*;)ゝ sorry 4 badly optimized pages
(i use 1920x1080 resolution
& that's what it's best on)
i'm still learning!

currently, i just chill and enjoy life while working on my dad's house with my bf + working on some sort of portfolio for college!
n_n idk what i want to do with my life, but i want to make a webcomic and sell handmade goods/clothing.
now that it's summer i love to go on long walks at night around my beach hometown and get aloe vera juice & paletas. <3
media
it's always sunny, what we do in the shadows, one piece, tiger & bunny, flcl, mononoke (toei),
yume nikki, pokemon, azumanga daioh, cat soup, pop'n music, taiko no tatsujin, pui pui molcar,
vocaloid, morning musume, animal crossing, stardew valley, doko demo issyo, sanrio, san-x, hunterxhunter
(more later media is hard 2 list when u dont consume anything)
interest
toys, dolls, nyamy, street fashion, zines, webcomics, horror, true crime, mythology(etc),
2000s jpn net culture, vintage, nostalgia, y2k aes, indie art communities, theatre (takarazuka),
furry, ocs, bara, mmorpgs, tamagotchi, rpgmaker games, geocaching, exploring, museums,
odottemita, crafts, makeup, arcades, rhythm games, vinyl figs
this page is a huge wip plz and thank u
other! this page will be updated frequently in the beginning as i get my bearings :'o)
extra info about me
fav color: pink

fav animal: tiger

scent: l'eau d'issey, burning leaves (c.b. ihp)

fav drinks:
fav food:
i'm a capricorn!

with my bf for 7yrs!

from annapolis, md!

i have 3 animals: chino, stella, lucio

rn i'm into:
flight rising, workin on ocs, doll crafts & art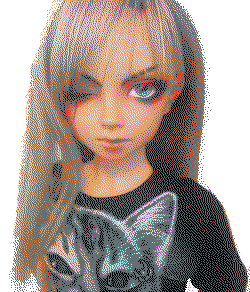 name:
xxxxxx xxxxx
xxxxxxxx
sculpt:
volks scarface cecile ocean of deep black ver.
faceup:
shallowsleep aesthetics
more info soon! (im burnt out rn) upd. 6.3.2021